Print This Post
PermaLink

I love it when a big company does the right thing.
Awhile back I had read with great interest that Black and Decker had released a new line of consumer/hobbyist grade cordless tools powered by the great new Lithium Iron Phosphate batteries from A123. This is the lithium battery that is supposed to be safe from fire, AKA "Doin' the Dell" while capable of sustaining incredible discharge rates. This is the same brand of battery that GM will likely use in their Volt plug-in hybrid electric car. B&D is using the same battery in their DeWalt brand of commercial tools. They are calling this line of tools the "VPX" line.
I was in Wal-Mart awhile back and decided to give their nut-runner a try. This is the tool that looks like a small electric drill but accepts only standard hex bits. It came with a battery and charger. Anticipating my experience with NiCad powered tools, I bought an extra battery.
A few weeks later I had the occasion to work in a salvage yard salvaging parts from some equipment to be scrapped. I used the nut runner for three solid days, mostly with Phillips and small nut bits but occasionally driving 3/8″ sockets via an adapter. The same battery lasted that whole time. Wow! My only complaint is that it isn't variable speed. Sometimes you really do need to creep up on a fastener. I consider variable speed essential enough that I may hack it into my tool. After the warranty expires, of course. NOT!
I was at Wal-mart again and based on how well the nut runner performed, I decided to give their portable tire pump a try.
This is a small tire pump similar to the old TireMan pump. I tried it on a car tire and it would just barely inflate the tire on my Caprice enough to drive on with one battery charge. It was a pain in the butt, though, since the trigger didn't lock on. It is really meant for lighter duty such as bicycle tires.
I bought it to carry in my GoBig electric scooter. The scooter uses racing go-kart tires that are easily punctured, even by sharp gravel. I carry a plug kit and the tire pump. It works great for that. It also works great to pump up my PetroMax kerosene lantern. The pump doesn't come with a battery but since I already had a spare, I didn't buy another one.
On my next trip to Wal-Mart, I noticed that B&D had a rebate going. In particular, buy a tire pump and get a free battery and charger. What a deal. I grabbed the coupon and stuffed it in my pocket. When I got home, I discovered what I was afraid that I'd discover. The rebate required that one send in the barcode from the package along with the receipt. Damn!
Up here in the mountains, one burns whatever garbage that he can so as not to have to carry out so much. That included the box the tire pump came in. I thought that I was screwed. Then I noticed that the lid to the box was sticking out from under my chair. Hurray for sloppy housekeeping :-)
I filled out the form, copied my receipt for my records, enclosed the box top and sent it in. I wrote a note on the top that I had burned the box before seeing the rebate. I expected the worst.
Some companies that heavily promote rebates – I won't name names but some initials are HF and NT! – use any deviation from the requirements as an excuse to deny the rebate. Some are so bad that I just ignore the rebate when making a purchasing decision. And try to buy from other companies whenever I can.
I had noticed on the form that one should allow 6 to 8 weeks for delivery. Another bad sign. Usually they figure that you'll forget about the rebate by then. Thanks to my Voice Organizer's calendar, I don't :-)
Anyway, I sent off the paperwork about 2 weeks ago and put an entry in my voice organizer to check on the rebate in a couple of months. Yesterday, to my great surprise, the UPS truck came rumbling down my dirt road. Inside the box were my charger and battery! Shazam! B&D came through. In just over two weeks. Kudos to them.
Most of us use the net to bitch about big companies behaving badly so I thought it only fair to report when one behaves nicely. Thus this post. B&D's doing what they were supposed to do is going to result in exactly what they wanted – I'm going out and buy more VPX tools.
The next thing that I'm interested in is this little power pack. This is a little 10 watt 120 volt inverter that should be the cat's patoot for charging my Archos JBR, my cellphone and other small gadgets. A pocket-sized source of a little bit of 120 VAC should be as handy as a third hand. I can't tell for sure from the specs but I believe that it has a USB charging socket too.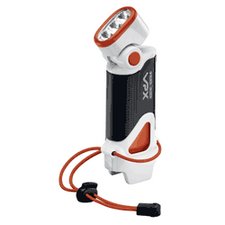 Being a flashahaulic, the next thing I'll check out is this LED flashlight.. This light will probably be lame by my standards but it's something to hack. I can visualize a 5 watt Luxeon LED and reflector in that case. :-)
Best part is, both of these items has the same battery-and-charger rebate as the tire pump did. I'll end up with 4 chargers and 5 batteries out of the deal. I LIKE that! Just the excuse I've been needing to do the 70 mile round trip to Wallyworld :-)
Posted by neonjohn on August 14th, 2008 under
Cool Stuff
,
Product Reviews